To celebrate International Women's Day, we're sharing an incredible journey from one of our sponsored athletes in Norway.
As a child in the 1970s, Astrid Furholt was fascinated by extreme sports. She's won medals for white-water kayaking and has embarked on many harrowing cold-weather expeditions, but recently, she made history after becoming the first woman to follow the famous Roald Amundsen trail to the South Pole.
When she's not battling the elements and testing her own endurance, she works as a nurse helping cancer patients. She's been especially inspired by that experience. "How many times I have heard my patients tell me that they should have done more to achieve their dreams. That they should not have postponed it but dared to do more… One of my patients told me "Astrid, you have to live while you are alive." This is the advice I follow.  I want to fulfill my dream before it is too late."
About the Expedition
Astrid trained in the Sierra Nevada Mountains for what a 1400 km trek that started in November 2017, and lasted 66 days, ten days less than she anticipated. For the first leg of the journey, she kite-sailed and ski-sailed across the ice—no easy feat in a place where the average temperature is -30° to -40° degrees Celsius (-22° to -40° degrees Fahrenheit) and the wind chill factor can make it feel like a brutal -70 Celsius (-94 Fahrenheit). Besides the cold and wind, her other challenges were navigating the terrain, extreme weather conditions and, in some spots, the altitude. For example, traversing the 2-mile-high Axel Heiberg Glacier and going up to the Platou is a similar experience to climbing the Himalayas with its thin air and harsh conditions.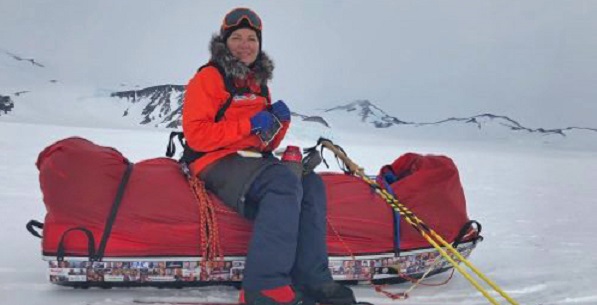 Astrid Furhot refuels with Herbalife Nutrition on her historic trek to the South Pole.
A critical piece of her success was getting the right nutrition to meet the extreme physical and mental demands of the expedition. We're beyond proud to be one of Astrid's sponsors as she set out to do the nearly impossible—and set a new standard for endurance and strength.
Astrid burned between 8,000 and 10,000 calories a day during her adventure, and around 70% of her diet consisted of Herbalife Nutrition products—products that have been a part of her routine for over 20 years.  During the trek, her breakfast included a Formula 1 shake, mixed with Personal Protein Powder and the cleanest water on earth from the melted snow right outside her tent.
"I am extremely happy that Herbalife Nutrition supported me during this expedition and that I was able to take the products with me to the South Pole," she said.
This is teamwork and we are honored to have been an important part of Astrid's expedition and hope you're as inspired by her as we are.
What's your next adventure?